Benefits of Video With Digital Marketing and Website SEO
How Video Marketing can help with your digital marketing strategies and Website SEO
Quality, effective website search engine optimization requires dozens of digital marketing strategies combined together, over time to create a high page ranking website according to Google Website SEO Rankings.
Today we're going to talk about video marketing and how properly optimized videos can help optimize your website for the search engines.
Provided everything else is done correctly, as far as relevant content, keyword integration alt tagged and geo-tagged images as well as off-site backlinks from other related blog websites and social media, and about a dozen other SEO strategies. Then, video can help propel you to the top of the search engines for your business in your local market. 
At Tech Media Marketing, Inc. we come from a video marketing background, creating automated youtube virtual tour videos for real estate companies and realtors. We perfected video optimization for our real estate clients. Over 10 years ago when we expanded our website SEO business we discovered that properly optimized video can help optimize the website.
From then on we have integrated video marketing for all our website Search Engine Optimization clients, and we are happy to say that every one of our website SEO clients are # 1 on Google organic search rankings for their chosen target keyword search in their local market. Many are number one for multiple target keyword phrases in multiple cities, and some in multiple states. 
YouTube Videos Coming up on the First Page of Google Search Results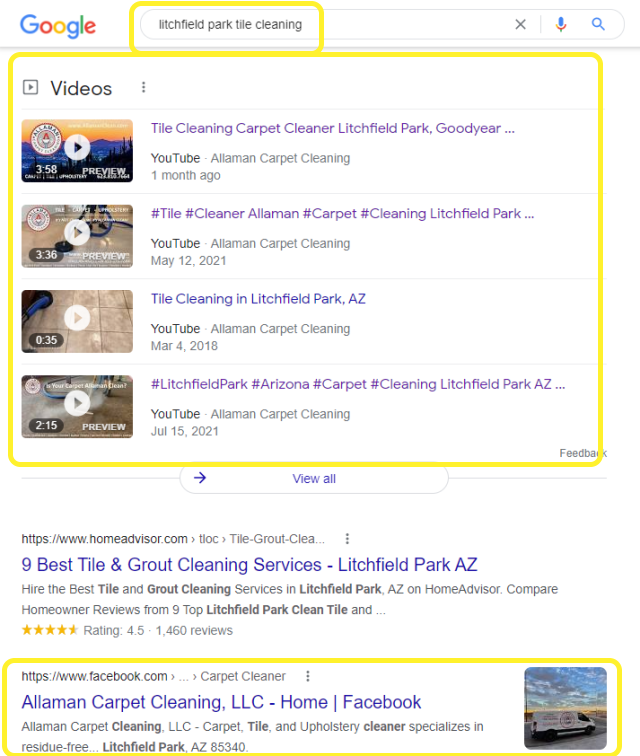 As you can see by the above examples, in a search for "Litchfield Park tile cleaning" Allaman comes up First for Google Business Listings, First for organic website search results, first for youtube videos and google videos with 4 videos showing up on the first page of google, their facebook page coming up on the first page of google search results and their Google images come up at the bottom of the first page of google. That's 5 times on the first page of search results, dominating their competition. 
If you'd like to dominate the first page of google search results for your small business in your local market, give Tech Media Marketing a call at 425-835-2404 or send us an email to request more info. 
Video SEO and Video Marketing
Like Website SEO, Video SEO is a process and we have perfected it. Now we're not going to give away our video SEO secrets here but I can tell you some our client's videos come up on the first page of Google along with their website. Google owns YouTube and YouTube videos can be a great tool for helping optimize your website.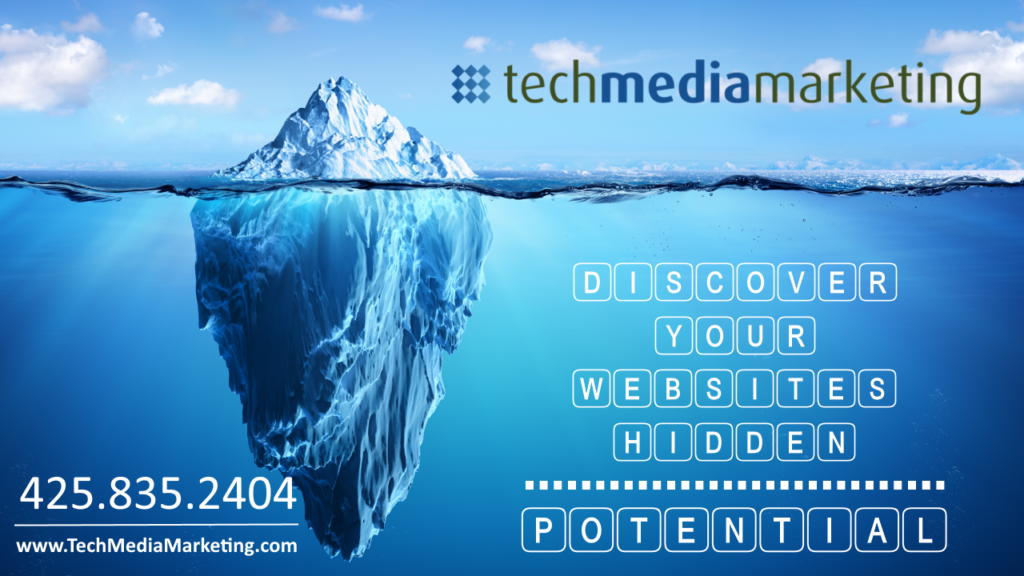 Website and Video SEO Search Results on Google
Here are a couple Google searches and link to the Google search results where you will see our clients website, videos and images all on the first page of google, and some their google business page profile comes up as well. 
This first one is a tile and website SEO client that does carpet and tile cleaning in Litchfield Park, Arizona. Search Google for "Litchfield Park tile cleaning" 
Our client is Allaman Carpet, Tile and Upholstery Cleaning. 
Their Google Business listing is # 1, their website is # 1 in Organic wenbsite rankings, they have 4 youtube videos on the first page of Google, and their Google images are at the bottom of the first page. 
How did we accomplish this? Very carefully and a lot of hard work over time!
Page 1 Of Google Search Results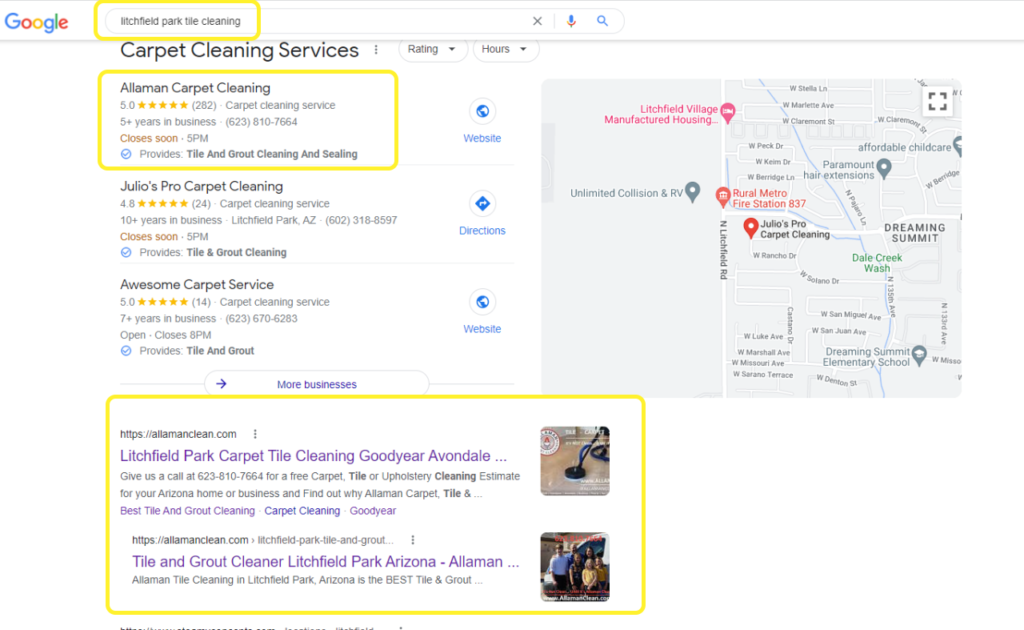 Facebook Social Media Page and Google Images Coming Up On the First Page of Google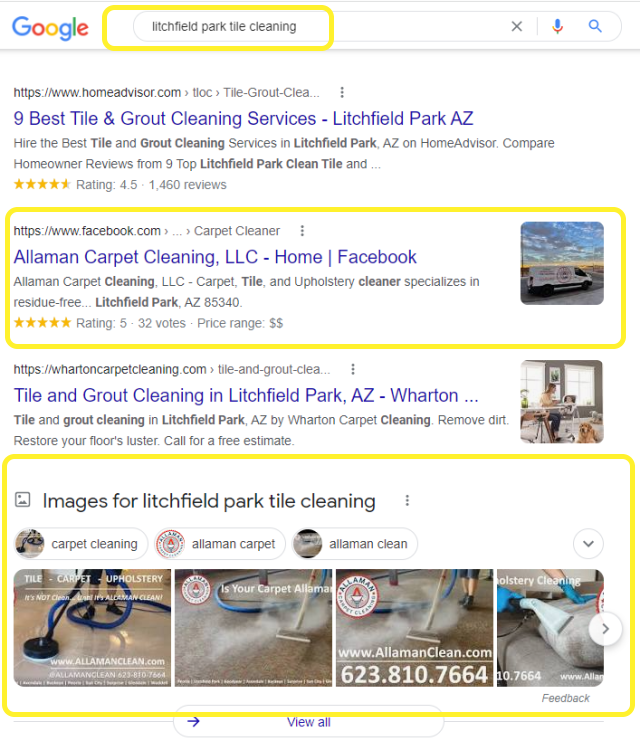 Here are a couple really cool videos a client created for the crypto and digital currency space
As you can see by the number of video views on these videos our client has done an excellent job of combining video SEO that we provide and integration with Social Media promotion of the videos through facebook, twitter, telegram and more.