Bridgetown Moving & Storage Dominates Video Marketing and Website SEO Search Results on YouTube and Google in Portland Market
Video Marketing is essential to effective website search engine optimization and promoting your small business brand online. Tech Media Marketing, Inc. Welcomes Bridgetown Moving & Storage in Portland, OR. as a website SEO and Video Marketing client. In the first 30 days the Bridgetown Moving & Storage website has risen in the google search rankings and their marketing video dominates searches for "Portland moving company" on YouTube and Google Videos.
Embedding the video on the website helps tremendously with the website search engine optimization as the video is well optimized for the target keywords and google likes to see relevant video integration on the website. Here is the marketing video we created for Bridgetown Moving & Storage.
Bridgetown Moving & Storage Marketing Video on YouTube
YouTube Search Results for "Portland Moving and Storage"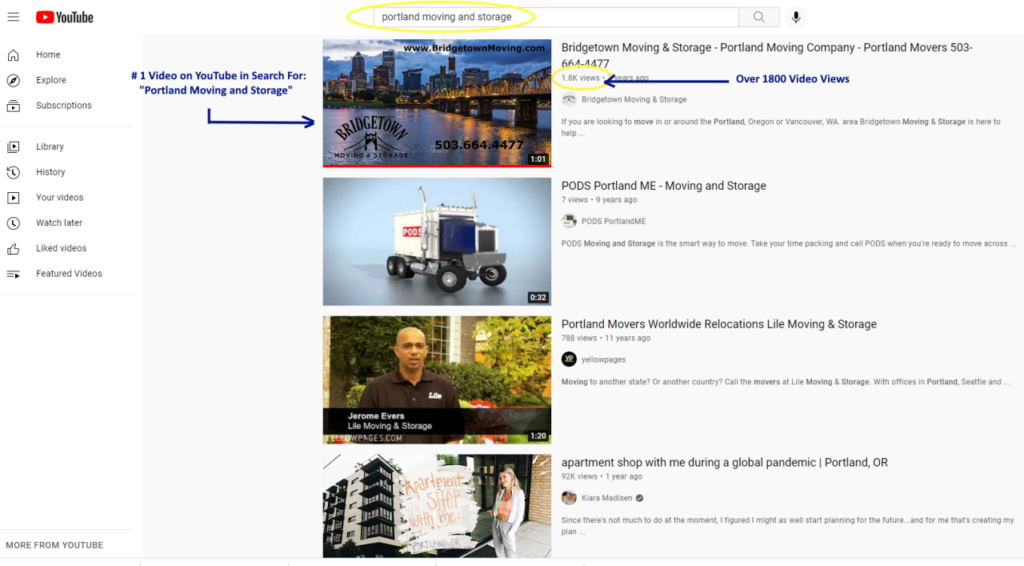 Not only does the video rank high on YouTube video search results, it also ranks high on Google video search and is the first video to come up in a google search. 
The well-optimized video is embedded on the website "Portland Moving & Storage" page, which helps optimize the Portland page, and part of the reason it comes up on the top of google search page results.
Find out how video marketing on YouTube and Google can help grow your small business online. Receive a free website and video marketing audit.